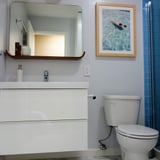 After buying our condo three years ago, my husband and I knew we'd eventually have to redo the guest bathroom in our hallway. It had a wobbly shower insert, dated finishes, and an impractical vanity without much storage. I hated going in there. So after a couple years of saving - and avoiding the room - we decided to bite the bullet and take on a small remodel project.

A before photo of my bathroom.

An after photo of my bathroom.
Creating a bathroom that reflected my own style was one of the main goals of the project. But I also wanted to stay in budget and avoid quirky updates that would decrease the value of my home. After doing some research, I discovered where I could save - and where I should splurge.
Don't just take my word for it. I caught up with HGTV star Scott McGillivray to check my work. After talking to him, I now know which updates gave me the most bang for my buck. McGillivray is the host of Income Property and wrote How to Add Value to Your Home. According to him, "next to the kitchen, the bathroom is the most important room in the house when it comes to resale."
That doesn't mean you have to spend more to make more. There are specific updates in the bathroom...