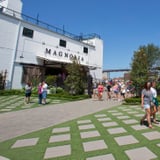 If you've ever dreamed about heading to Waco, TX, to check out Magnolia Market for yourself - and what Fixer Upper fan hasn't?! - then you're going to be interested in what blogger Rachel Teodoro has to say. She's a Chip and Joanna Gaines expert, having interviewed Fixer Upper cast members and visited the Silos several times. She recently shared 11 little-known facts about visiting Waco and was kind enough to let us share some of the most surprising revelations about Magnolia Market below. Whether you're planning a visit yourself or just curious about what it would be like to pose beneath the #milestomagnolia sign and play bean-bag toss on the Silos lawn, we encourage you to check them out below. Then, head to Rachel's blog for the full story.

There Are No Shopping Deals to Be Had
The experience of visiting the store in Waco is undeniably more exciting than browsing the website, but the goods and prices are identical. While you'll return home with the memories of visiting Magnolia Market in person, Rachel says you won't return with any special goods that you couldn't also buy online.
Joanna's Mom Welcomes Guests
You're probably not going to run into Chip and Joanna while...