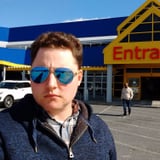 Ikea can make or break a relationship. How a couple navigates the never-ending aisles, furniture decisions, and assembling instructions at home can have a lasting impact. And yet, it can be almost impossible for couples not to get sucked in at least once.
When Nathanael Showalter found himself being dragged to the massive store, he didn't suck it up for the meatballs or spend the afternoon complaining about the spotty cellphone reception. Instead, he decided to document what shopping with his wife - when they didn't actually need anything - was really like.
Related:
Ikea's 2 New Limited Collections Are All the Boho-Chic Decor You'll Need This Summer
His hysterical play-by-play of the outing is going viral because everyone who has ever been tortured by their partner and an insanely long trip to Ikea can relate to it. He starts off by making the purpose of their recent visit clear: "We are here. Our apartment is furnished. I am not sure why we are returning," he shared on Imgur.
He continues to share in perfect detail exactly what a day of browsing at Ikea is like according to a husband who doesn't particularly want to be there. "Perhaps we are here for institutional storage...