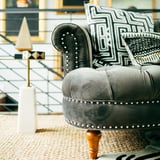 If the idea of getting your home company-ready is keeping you from hosting a dinner party or even your out-of-town in-laws, we can help. Sure, you could spend all day cleaning and decorating in anticipation, but who has the time? Here are the only things you really need to do before your guests arrive. Don't worry - they are nothing but easy.
- Additional reporting by Miranda Jones
The Scent of Your Home
POPSUGAR Photography / Brinton Parker
Decor isn't the first thing guests notice when they walk through your door - it's the smell. Whether you're concerned about the fish you cooked the night before or your dog skipping a bath - or worse, the scents you've become noseblind to - put your mind at ease by lighting a candle or simmering a small pot of citrus peels and cinnamon sticks a half hour before guests arrive. We can't get enough of these yummy-smelling candles - all under $50.
A Well-Stocked Bar
Photo by Janae Hardy via A Beautiful Mess
After greeting guests, the first thing that you will want to do is offer them a drink. You don't need to be full service, but make sure you have the home bar basics covered.
Fresh Flowers
Photo by The Crafted Life
Flowers are...