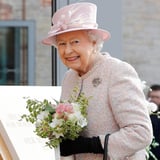 When you live in a home as enormous and lavish as Buckingham Palace, you can expect to have a home-repair bill to match. In April 2017, Queen Elizabeth will embark on a decade-long renovation to her London residence – which anyone who watches The Crown knows is absolutely grand inside. The project has been budgeted for a whopping $460 million dollars. Perhaps even more surprising than the cost is what the renovations will entail.
Instead of refurbishing the palace with a new interior design scheme, including things like drapes, furniture, or carpets, the money is going to replacing the palace's dangerously dated infrastructure, including 60-year-old pipes and cables, 2,500 radiators, 36,000-square-yards of floor boards, 500 pieces of sanitaryware (aka toilets), and 5,000 lighting fixtures.
Not so glamorous, but very necessary according to the UK Treasury, which issued a statement saying, "The project seeks to prevent a serious risk of fire, flood and damage to both the building and the priceless Royal Collection of art belonging to the nation." The updates are designed to extend the life of the property by another 50 years.
Government grants, which come from taxpayer money,...