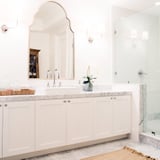 While you may expect to find an ant here or there around your house during the Summer, discovering a whole swarm of them can be pretty distressing. And unfortunately, it's not uncommon to find a whole colony of ants taking up residence in different rooms in your house - including your bathroom. They might be harmless, but any unwanted visitors in your home like insects can be pretty gross. Getting rid of ants may not be as difficult as other household pests (we're looking at you, bedbugs!), but it does require some planning. Keep reading to find out how.
Find the Cause
Before you start your battle with your new guests, it's important to figure out where the ants are coming from. Often, if you have ants in your bathroom, it's likely that a colony has made itself pretty comfortable somewhere in the bathroom, and they're probably not coming in for a quick visit. Inspect your bathroom to see if you can find the colony, or watch the ants to see if they lead you there. If you're lucky, the cause of your ant problem will be pretty obvious.
Identify the Species
Not all ants are alike, and identifying the type of ant you have could help in your fight against them. But it might take a...