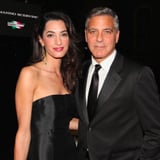 George and Amal Clooney are less than a month away from the arrival of their twins. While we already know the happy couple will be welcoming home a boy and a girl, thanks to a slip up by George Clooney's mom, we're only just now learning more details about the twins' nursery. According to sources over at E!, George and Amal waited six months before decorating their babies' room because "they didn't want to rush or jinx things."
Related
Wait, George Clooney Shares a Vacation Home With Who?
The couple, who recently built a panic room in their 17th century English manor, reportedly sought out London-based interior designer Ilse Crawford to help make their dream nursery come true. The Clooneys were reportedly very hands-on with the decorating process, even selecting many of the nursery decor pieces themselves. According to the E! report, a few of the nursery items were purchased at Baudou, a boutique in Paris. We can't wait to get a sneak peek at the nursery, but until then, these stunning photos of their new Manhattan apartment will have to hold us over.