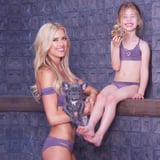 Welcome to the family!! @cashiethefrenchbulldog 🐶 Click link in my bio!! 👙🍩

A post shared by Christina El Moussa (@christinaelmoussa) on
There has been no shortage of headlines surrounding Flip or Flop's El Moussa clan lately, between the news of Tarek and Christina's split and shocking revelations about Tarek's cancer battle. But the latest reason Christina El Moussa is sparking discussion is puzzling; after sharing a photo to celebrate bringing home a new puppy, Christina faced serious backlash from Instagram followers. The photo, which shows Christina and her daughter, Taylor, wearing matching purple bikinis, garnered a multitude of comments calling the post "inappopriate" and "just not cool."
However, following the backlash about posting the image of her daughter in a swimsuit, many moms chimed in to defend Christina. "Love you. Love the pic! Adorbs! You know the haters will hate. That's their problem," one wrote, with many others agreeing that they saw no issue with the photo of mother and daughter. In fact, many complimented the matching bikinis, noting that Christina had an eye for design without even trying!
So, what do you think...