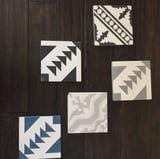 A post shared by Christina El Moussa (@christinaelmoussa) on
Christina El Moussa's interior-design savvy has been one of the driving forces behind her and estranged husband Tarek's tremendous house flipping success. And while Christina has shared her tips for getting stylish backsplash on the cheap, given us glimpses of her own home's uber-glam bathroom tile on Instagram, and shown her trendy aesthetic on Flip or Flop, until now we didn't know what her favorite tile was. The reality real estate star changed all that when she shared a snap of several Cement Tile Shop tile styles she's looking at alongside the caption, "Playing around with @cementtileshop tiles and SO excited to start filming new episodes of #fliporflop today!"
With their boho-meets-mod designs, Cement Tile Shop exemplifies the best of contemporary home design – how can you not love a hexagonal starburst pattern?! Of course, we had to dig a little deeper to find out more about the company. It turns out, Cement Tile Shop tiles are handmade using the centuries-old encaustic process, which inlays the design by burning it into the cement with a mix of color pigments and hot wax. The...