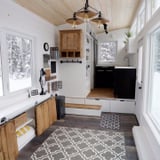 If Living Alaska, Tiny House Hunters, and Fixer Upper had a new spinoff show, Ana White would be the star. The Alaskan mother, wife, and accidental builder discovered her hidden talent out of pure necessity. After spending countless nights on a floor mattress with a baby who wouldn't sleep, Ana decided she didn't need to keep saving to buy a bed if she could figure out how to make one. She sketched plans for a bed and built it out of scrap wood in two days flat. Now, the impressively resourceful designer, builder, author, and blogger is empowering millions of homemakers on tight budgets to do the same.
A post shared by Ana White (@anawhitediy) on
Her latest tiny-house tour sums up her creative approach to problem solving as well as her great taste. If her motorized DIY elevator bed doesn't get you, it will be the storage sofa that converts to a bed, the desk that turns into a dining table, or maybe the sliding closet that tucks into the shower. Either way, it's impossible not to become a fan after watching her wizardry firsthand.