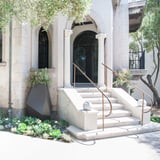 You've put heart, soul, and a lot of bucks into turning your house into a home. The last thing you want is for someone to break in and rob you. A home intruder is scary to even think about, but spending a few minutes of time recognizing and fixing ways your home is vulnerable can pay off big down the road.
Here are nine ways you may be inadvertently making your home more attractive to thieves:
Rundown Front Door
Your front door is the first place burglars will look, and a dilapidated front door signals that your home is an easy target. A clean, painted front door gives the impression that the entire home is well-cared for and harder to breach.
Single Lock
Burglars look to see what kind of locks they'll have to navigate to enter, and when they see only the standard cylinder lock, they're more likely to have a go than if there's also a padlock visible. In short: doubling up on locks makes your door physically more difficult to break into and your home less appealing to burglars.
Enticing Trash
The discarded boxes and bags from all your big-ticket purchases are like advertisements to burglars of the valuables inside your home. Prevent thieves from getting as excited over...