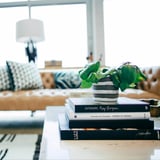 Scattered among the Craigslist advertisements for jobs, questionable meetups, and furniture for sale, are some amazing housing options. It can all seem really daunting trying to find your dream apartment on the internet, especially if you're moving to a new city. However, having been on both sides of the search, both as a renter and a landlord, I believe strongly that it's fully possible to find your perfect pad using Craigslist.
1) Do be very honest with your needs.
When my husband and I were looking to buy a place, we sat down privately and generated a list of our top five must haves. As much as I'd love to say that we got everything within our budget, there were a couple things that just were not going to happen without drastically ticking up our down payment. However, it didn't matter that our building didn't have a fireplace or rooftop deck since we got our big wish-list items, which were more contingent on location and building size. Finding your dream Craigslist apartment should be a very similar process. Make a list of your top five desires and put them in order. I hate to break it to you, but if you have pets or need a nonsmoking environment, those have to go at the...