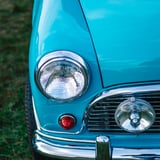 Don't you just love how car costs creep up on you everywhere you turn? You've got to consider parking fees, smog checks, regular maintenance, registration costs, inspections, and worst of all, car insurance premiums. If you look at your car insurance bill and shake your head each month, you're not alone. Your insurance costs could be high for a lot of reasons - some of which might be out of your control, while others might be fixable. Here are some reasons you're paying more so much.
Related
19 Insanely Cool Car Hacks You Should Try Out
1. Your type of car.
"The year and model of your car will change the amount you pay to insure it," Seth Birnbaum, CEO and cofounder of EverQuote, says. Electric cars are cheaper to insure than gas cars because they're less powerful than gas-powered vehicles and therefore cannot go as fast, which reduces the risk of an accident. There are many other factors involved in determining how your car's make and model will affect your insurance costs.
2. You moved!
Yep, even something seemingly unrelated, such as making a move to a new location, can cause your car insurance premium to go up. EverQuote says that moving to a new location can cause your...