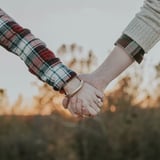 Money. It's a topic so personal we have trouble talking about it with our significant others.
One study from the University of Wisconsin - Madison looked at 100 married couples and concluded that "compared to nonmoney issues, marital conflicts about money were more pervasive, problematic, and recurrent, and remained unresolved." In order to avoid that pitfall, you must prioritize open and honest communication and create good financial habits as a couple. Once you set them up, these habits will help you manage financial stress, one of the biggest threats to a relationship. You'll also get another benefit: the financial means to achieve your dreams as a couple.
Couples who are "good with money" know that proactively managing your household budget is good for your bank account and relationship. They've overcome the pitfalls of debt, navigated setting up joint banking accounts, and figured out their tax situations. If you want to be like them, here are 10 tips we've gathered from personal finance experts. Read on for things all couples who are good with money do.
1. They Openly Discuss Small Purchases
It's never too early to build healthy communication around money. "Early on in...