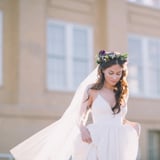 It's common knowledge that weddings are tough on the bank account - what you may not know, however, is just how much of a hit your/your parents' funds will take. Value Penguin outlines the average cost of tying the knot in America, and let's just say it isn't as pretty as the fancy white dress.
Related
7 Ways to Minimize Wedding Costs For Your Bridesmaids
The average cost of an American
wedding

in 2016 is $29,858.

. . . But it varies from state to state. In Southern Florida or Chicago, for example, the typical price of a wedding runs about $50,000. In Manhattan, specifically, you might be forking over $88,176 (yikes!). There's a silver lining: if you plan to say "I do," in Mississippi, it'll only cost you a little over $12,500. Iowa's another comparatively low figure at $13,637. In west Texas, the average cost is capped at $13,904. All (your money) is not lost.

So why is a wedding valued in the tens of thousands of dollars, anyway? Well, there's a lot to cover. The Knot breaks it down:
Parking/transportation: 2-3 percent
Stationary: 2-3 percent
Attire: 8-10 percent
Flowers: 8-10 percent
Reception: 48-50 percent
Ceremony: 2-3 percent
Photography/videography: 10-12...