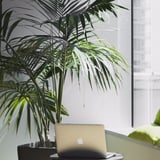 Let's face it, the summertime means vacation vibes, hanging with friends, and chilling on the beach. But here's another truth: our bills don't stop during the Summer, and unless you are a trust-fund baby, you need to continue to get paid. So how do you stay focused and avoid the Summer slump at work? Here are six tips for doing just that:
1. Find Your Balance
All work and no play will leave you feeling summertime-fun-deprived, so it is important to find your balance. Make sure your week is filled with not only work duties but also many fun things to do so you don't feel bummed out that you have to work. Also, the fact that the sun is up longer during the Summer allows you to have many after-work functions without having to play hooky.
2. Plan Your Day
It is easy to fall into a slump if you allow the day to control you instead of you controlling it. Make sure you plan your day early so that you can schedule in some time for fun. When you have the day planned out, it allows you to dictate what parts of your day will be focused on work and when you can take a break. Schedule lunch breaks and enjoy the sun throughout the day. Also, try to arrive at work earlier so you can leave...