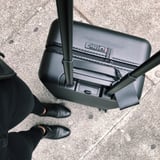 There's a strong case against checking in your luggage: it can get damaged, it's inconvenient, and worst of all, it can get lost. But if you're a perpetual overpacker or your travels require more than a carry-on, you can't always avoid checking in. It's a definite risk, but there is a solution that may help put your mind at ease, at least in terms of knowing where your bags are at all times. Highly favorited luggage brand Away and item tracker Tile teamed up to create a luggage tag ($30) that every traveler needs.
The 100 percent leather tag features an opening made to fit the Tile Slim, which pairs with your smart phone via Bluetooth. It's basically like Find My iPhone for your things. You can locate your suitcase on the Tile app from any of your devices, which will show you where it's at down to the street and city.
You can also follow it on the app's map like below.
Though it doesn't prevent the airline from losing your luggage, you'll at least have peace of mind and you can help them retrieve it faster knowing exactly where it's at. If your suitcase is beyond the Tile's Bluetooth range, you can also select "Notify When Found" in the app to be automatically notified of...