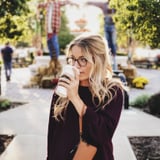 I started my year of not knowing in May 2016. I was at a job I knew I wanted to leave for a while and, in fact, didn't realize how unchallenged I was until I left. Here's a tip - if you're eating more times a day than is necessary, have minimal desire to leave the house in the morning, and read about obscure Flemish designers on Vogue.com to pass the time, you probably don't like your job.
So, I found myself for the first time in my professional life not working - and I had never not worked. I knew it was time to start over from scratch which required lots of soul searching, meditating, and an amount of courage I have to summon hourly. My year is not over yet, but I've been getting so many questions about what I've learned in this extraordinary time-in-the-making, I put pen to paper and wrote it all down.
Lesson 1: Do Your Research and Don't Be Afraid to Reach Out
I made it my mission to find out everything that was happening in the digital entertainment industry. I felt like if I had a solid grasp on the landscape then I would know everything happening in my business and be able to make decisions. So, I called and emailed everyone. I LinkedIn messaged everyone. I never asked...