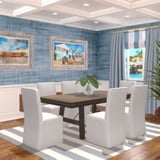 I'm $35 deep into an app that lets you design fake rooms with digital furniture, and I'm pretty ashamed of myself. The game is called Design Home, and it's mind-numbingly simple. Your goal is to design a room with tiny furniture, then your room is pitted against the rooms of other players. Depending on how many people like your room, you may be awarded a new piece of furniture to add to your arsenal.
I have never had any interest in interior design. In fact, I would venture to say that I'm bad at it in real life (my entire home is a mishmash of hand-me-down pieces), and yet, I can't stop playing this damn game. If it were just about the design aspect, I probably would have quit by now, but the way the app is constructed is addictive.
Related
A Professional Trendspotter Tells Us Exactly What Designs Will Be Hot in 2018
You get a lump sum of "money" when you first sign up, but you have to be very careful about how you spend it. Once you run out, you can only earn more money by completing new challenges (fresh ones pop up every few hours) or paying actual human money to purchase more diamonds, which can then by converted into play money. Keeping a balance requires patience, as...