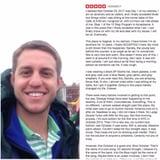 Matthew Goodyear admits he's not one for posting Yelp reviews each and every time he eats out, but after a morning of serious self-reflection, he knew it was time for his first post. After the 27-year-old finally realized that he was losing an ongoing battle with alcohol, he decided to open up about his struggle in a brutally honest Yelp review of a little place called Pignone's Café.
"I realized that Oct. 23, 2017 was Day 1 of my sobriety. I am an alcoholic and an addict, and I finally accepted those two things while I was sitting at the corner table of this café at 6 a.m. hungover with a five-hour car ride ahead of me. Step 1 of the 12 Step Program is acceptance. It was in this place that I finally accepted what I am. I can finally move on with my life and deal with my issues. I will be OK. Eventually," he wrote.
Related
Here's What Happens When You Quit Drinking
Those who struggle with alcoholism know just how vicious of a cycle it can be. You drink to blow off steam or simply to forget the embarrassing things you did or said the last time you were drunk - and that's when it really gets messy. Goodyear explained just how bad it can get: "I hit rock bottom for the first...