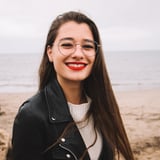 Even if you don't plan to make any New Year's resolutions, there's always room for self-improvement. And bettering yourself doesn't require as much action as you'd think, because it all begins with you. Once you become open to making a change, you're already well on your way to becoming a better version of yourself. See 11 simple ways to make it happen in 2018!
Related
21 Ways to Think Positively Every Day
Get involved: Find a cause you're passionate about and see how you can contribute, whether it's volunteering every quarter (or more often!) or making a donation. Notice that a certain topic fires you up or hits you emotionally? Pitch in and make a difference instead of taking a backseat.
See it from a different perspective: The next time you're quick to judge, evaluate the situation from a different angle before making any assumptions. Practicing this regularly will help relax that reflex and promote compassion.
Take responsibility: It's easy to make excuses and point the finger, but work on holding yourself more accountable in situations from being late to contributing to a larger issue.
Be thankful: Expressing gratitude is such a simple way to improve yourself. Go even...