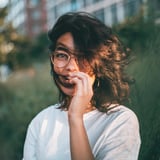 Considering that INTJ personality types only make up two percent of the population (ladies, we're even more rare at 0.8 percent!), it must mean there's something special about us. Here are seven awesome qualities to start with that make INTJs stand out.
Related
5 Things INTJ Personalities Need to Have in Order to Be Happy
They're confident. Humility isn't one of their strong suits, but they can't help it! INTJs assess the situation from every angle, so when they're right, they're really right. Since this personality type is highly intelligent and competent, they rarely experience self-doubt. And they're not self-assured without good reason - they can support their confidence with their proven abilities.
They don't care what others think. Validation from others is the last thing they require. They look to logic and rationale, not people. And because INTJs dislike rules and tradition, they're not the type of people to follow the hottest trends. In fact, they consider many social conventions to be dumb and will question authority when necessary.
They're independent. INTJs don't require a whole lot of attention because they're fully capable of taking care of themselves in the...