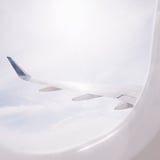 They (graciously) serve us cold drinks and packages of pretzels, and have mastered the art of navigating a tiny aisle full of travelers who choose to ignore the "fasten seatbelt" light. But what's it really like to be a flight attendant? And is there a secret to getting your ears to pop on a plane? A flight attendant who works for a major US airline recently did an IamA on Reddit, and shed some light on the job, as well as tips and secrets for flying.
Related
18 Secrets From Flight Attendants That Will Change the Way You Fly
1. Is there a "good" way to make your ears pop on ascent/descent? Pressure sometimes drives me crazy.
"Look up scuba diving equalization techniques. One of those is probably your best bet."
2. Is it true that cabin crews use tap water to obtain hot water and they use it for tea and coffee?
"Yep. If you didn't see it come out of a bottle, it could've been from the portable water tanks. Tea and coffee always come from those tanks. Some of us drink it, some don't . . . Those tanks are filled at many airports by many different people, and cleaning them is hard. And when you're on three or four planes in a day, it increases our exposure that much more, so we...