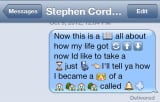 Reason 3,937 we love emoji: they tell a story. Whether that's a story about what's wrong with your life or a story about how you danced your butt off last night, those little symbols capture so much significance.
But if you thought you were good at using emoji to tell your story, think again. Once you see these 17 examples of perfect emoji use, you'll realize your emoji game is pre-tty weak. It's OK though because you can just copy them.
Related
If Zodiac Signs Were Emoji . . .
Ta-Da! The Real Meaning Behind Those Vague Emoji
Which Emoji Matches Your Soul?