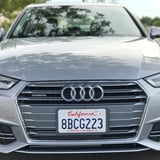 To describe my relationship with car rental services as unhealthy would be an understatement. I cannot even begin to tell you about the number of awful experiences I've had with traditional kiosks like Hertz and Enterprise because I get heated just thinking about it. But let's just say they've ruined enough trips to make me avoid renting all together. So, when I was offered the opportunity to try out Silvercar, a premium app-based, on-demand car service that promises a seamless user experience each time, I was intrigued.
The entire process - from reservations and pick-up/drop-off to the receipt - is all done via the Silvercar app. You also get a silver Audi A4 every single time, as Audi recently acquired the company. I've got to admit that when I first heard "no hassle, no lines, no paperwork," I was a bit skeptical. There's no way it can be that easy, I thought. Fast forward to when I got the car in front of me, and damn was I proven wrong. The entire process, from check-in to driving off, took a total of 10 minutes compared to the usual hour-plus it takes me at other kiosks.
So, How Does It Work?
Silvercar is available from 17 major airports and cities in the US, including...