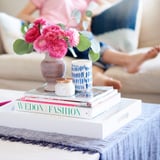 I'm an evangelist for Marie Kondo, the Japanese organizational guru whose unique tidying techniques have become a worldwide sensation. I've read both of her books and completed the full decluttering/reorganizing program in six months. In the last year, it has been my favorite thing to bring up to my friends, co-workers, heck, even distant cousins. I am obsessed, because it really has transformed my living space and shattered many of my bad habits related to tidying. Some people aren't convinced and steadfastly refuse to KonMari their home. Me, on the other hand, I'm a fervent believer, because I learned so much. Here are my greatest takeaways based on my experience.
Lesson 1: Getting rid of everything that doesn't "spark joy" is really liberating.
I know this sounds extreme, and I know some people claim there is room for regret with all the purging that happens, but not me. It was a chance to get rid of that set of lamps I always loathed, the antler candelabras and other ridiculous items I never used and somehow casually inherited, and the piles of unread books that bubbled up anxiety and regret every time I looked at them. Getting rid of all the extra junk felt so empowering...