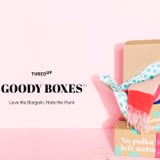 Technology can be one hell of a glorious thing. Thanks to the supersavvy innovations of the last few decades, some of the most aggravating, time-consuming tasks faced by modern womankind have been transformed into a recurring iPhone reminder and a few simple clicks of a mouse. And now one of the biggest time sucks in history joins the ranks of "things made way easier by technology": thrift shopping.
On Dec. 12, online thrift-and-consignment giant ThredUp launched Goody Boxes, a streamlined way to make firsthand style out of secondhand goods. Here's how it works: You take a quick quiz about your personal style and the brands you love, which is then processed through an algorithm that scans 35,000 brands and over 2 million items to come up with the pieces that fit you best. Then you choose how many items you want to include in your box (10 to 20, all of which get up to an 80 percent discount), and the in-house ThredUp stylists sign off on the items that they think you'll love the most. It's worth noting here, too, that you can choose the type of box you want - from "work wear" to "fancy," it's all covered in individual boxes available for purchase.
Once you've completed that...