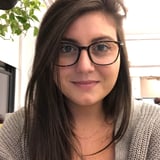 A few weeks before the holidays, I started getting daily headaches. At first they were small at a typical pain level - but they quickly built up to be extremely painful and, at times, even debilitating. I began taking a ton of aspirin, rubbing my temples like some sort of wellness guru, and I even resorted to googling (never do that) what the cause could possibly be. Although my search led me to think I may need a new pillow or a deep muscle massage to help better relax my neck and spine (which, according to WebMD, was definitely misaligned), a ton of people I talked to about the headaches in person pointed out that it could be due to my job as an editor, which requires me to stare at a computer for anywhere from eight to 10 hours a day.
Add those hours to the time spent scrolling through my phone during my commute to and from work, long nights of catching up with my favorite TV shows, and cuddling up with my phone again once I got into bed - and, let's be honest, you have yourself a pretty likely headache cause.
After suffering for over a month, I decided to try to figure out if too much screen time was, in fact, the cause of these headaches. However, considering the amount...