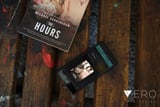 Seemingly overnight, my Twitter timeline and Instagram feed suddenly became filled with posts about friends who were joining some mysterious social platform called Vero. "Good lord, not another one," I thought, scrolling past the multitude of "Join me on Vero!" posts. It reminded me of the hype surrounding the launches of Google+, Vine, and Periscope - each began with fervor but eventually faded into relative disuse.
But for the sake of maintaining my own status as a hip millennial (and helping keep you in the know), I've gone ahead and done some research on Vero. What's the deal with the new social media sensation? Here's what you need to know.
What is it?
Vero is a "true social" platform that launched in 2015 as an answer to people seeking a more authentic online social experience. Vero describes itself as "a social network for anyone who loves anything enough to share it - and wants control over who they share it with. Just like we do in real life." The platform allows users to share movies, TV, music, books, places, photos, and links . . . just like most other social platforms.
How is it different from other social media platforms?
The major draw to Vero is the way it...