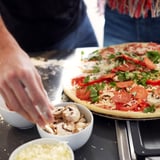 Of the less-than-conventional foods to throw on the grill, my favorite is probably pizza. I love a luscious, melted pie in any form, but there's something about the crunch and char of the crust from the grill that makes barbecued pizza irresistible. Thinking of throwing a pizza on your grates for the first time? Here are a few tips for grilled pizza pizzazz.
1. Make sure your grill is hot!
When it comes to pizza crust, the higher the temperature of your grill, the more blistery, chewy, and crispy your pizza will be. If you don't have a thermometer on your grill, then check the heat using the "Mississippi" test: hold your hand three inches over the grill grates, and start counting, "One Mississippi, two Mississippi, three Mississippi," and so on. If you can only count to two or three before the force of the heat makes you pull back your hands, then you know you've got your grill at 600ºF or higher.
2. Know the basics.
Brush your dough with oil. Then, once you've hand-stretched it or rolled it out, gently drape the dough over the hot grates. Cook until the dough puffs and grill marks begin to appear underneath, about one to two minutes. Using tongs, flip the dough over, then...