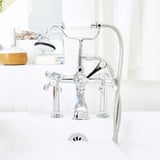 Let's face it - bathrooms are gross. Even the tidiest among us still have to deal with hair-clogged drains, grimy sinks, and shower tiles coated in thick layers of shampoo, conditioner, and who knows what. But when cleaning day comes around, forget toiling away with rolls of paper towels, scrub brushes, and several different harsh chemical cleansers. All you need is this one bottle of magic soap, and you're just minutes away from a sparkling-clean bathroom. Pull your hair back, pump the jams, and let's get to work! You'll be good to go after just one song.
Related:
I Tested Out the 18 Uses Dr. Bronner's Soap Claims to Be Good For
After discovering Dr. Bronner's Pure Castile Liquid Soap while on my quest for nontoxic beauty products, I was hooked. These 18-in-1 soaps are really just that with near limitless cleaning possibilities around the house. I wash my feet with peppermint soap for a cool tingle, hose the dog off postbeach with lavender soap, and tuck a small bottle of sweet almond for shampoo and body wash in my gym bag. But on one particularly...