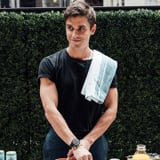 There's a reason the food Antoni Porowski makes on Queer Eye isn't especially intricate. Through the beloved Netflix original series, now in its second season, the 34-year-old, Montreal-born chef simply wants to make viewers less afraid of cooking. So, he'll teach people how to make guacamole or an omelet because he isn't trying to dazzle viewers with his advanced culinary techniques. He's just here to help.
In a phone interview with POPSUGAR to promote his mixology partnership with Vita Coco Sparkling, Antoni shared his thoughts on delivery culture and broccoli lattes, and he dished out some details about his fairly under-wraps restaurant . . . without getting himself in trouble.
Antoni likes to keep things simple. As a self-described "purist" with "more traditional sensibilities," he's not here for the most recent viral what's it called. The latest food trend that elicited an "eye-roll" from him? The broccoli latte. "I can't imagine it to be pretty delicious. I feel like hot broccoli should be roasted, charred, or it should be like a cheddary broccoli soup," Antoni said. "Anything too gimmicky tends to throw me off."