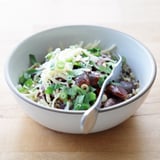 Beans and quinoa doesn't sound like the most exciting lunch, but when done right and sprinkled with a few simple yet flavorful toppings, it's a combination that's absolutely craveable. Like many great recipes, this one was created out of necessity: namely, an empty fridge (well, as empty as any food writer's fridge ever is) and a deep-seated desire to avoid leaving the house on a lazy Sunday.
A bit of fridge and pantry scrounging produced a knob of sharp cheddar cheese, a pound of dried beans, a couple cloves of garlic, some quinoa, and half a bottle of vinegary hot sauce from my favorite Puerto Rican restaurant. (Seriously, if you find yourself in the Bay Area, go, and take home a bottle of their pique as a souvenir.) An odd-sounding roster of ingredients, to be sure, but just trust me: here, it works. The beans, garlic, and bay leaves went into the slow cooker along with salt and water, the quinoa was tossed into a pot, and the cheese got shredded.
Layered together with plenty of hot sauce, it's kind of Tex-Mex in flavor, but mostly just really good. And excitingly, it reheats wonderfully and can be packed into a mason jar for toting to work. For all of these reasons,...