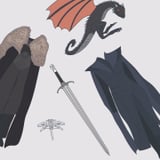 As we impatiently await the final season of Game of Thrones, what better way to fill the Westeros void than by channeling your favorite characters for Halloween? The show has continued to dominate headlines as we hold on to every little clue about the next season, with Jon Snow and Daenerys Targaryen sparking most of the buzz. From the moment they met to their very steamy scene in the season seven finale, the chemistry between Jon and Daenerys definitely fueled the Team Ice and Fire fans. Instead of dwelling on the long wait until season eight, celebrate the most popular (and complicated) couple in Westeros by dressing up as Jon Snow and Daenerys Targaryen for Halloween.
Related:
50 Game of Thrones Characters You Could Be This Halloween
Image Source: HBO
How to Create It Yourself
Ready to channel Jonerys? Here's what you'll need:
For Jon:
Long cloak
Faux fur wrap
Toy sword
Man bun
For Daenerys:
Long black dress
Blond braided wig
Dragon pin
Toy dragon
For the base of each costume, pick head-to-toe black layers, including simple black ankle boots. But...