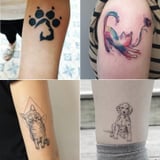 People get tattoos to honor their children, to show their fandom allegiance, and even to pledge their love to their significant other. But another ink-spiration we love is our pets. For some people, a furry companion is worthy of a permanent place on the skin - like the people in this gallery. Check out all of these fantastic animal tattoos, and then check out even more tattoo inspiration.
Related:
30+ Cat Tattoos For When Your Kitty Love Is Permanent
20+ Tattoo Ideas Inspired by Our Favorite Furry Friends - Our Pups!