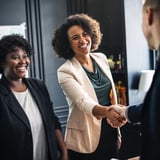 So you've passed the initial application stage and have secured an interview for a role you really want. Congratulations! But the hard part isn't over yet. You still need to ace the interview. And there's a lot to consider when it comes to job interviews, from wondering what questions will be asked to figuring out what to wear. Plus, it's as much about using it as an opportunity to find out if they're a good fit for you, as well as you being a good fit for them.
It's easy to feel nervous or overwhelmed, but an interview doesn't have to be a big, scary obstacle between you and your dream job. If you're prepared, motivated, and confident, you're already several steps closer to success. Here are some simple tips that will help alleviate your nerves, empower you as a professional, and make your interview a triumph.
Do your research. Learn as much as you can about the company you'll be working for, what your role will entail, and who will be interviewing you. You'll feel much more confident after building a strong foundation of knowledge and won't be thrown off if you're questioned on your understanding of the company.
Look back over your application. That's what helped secure...