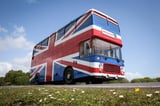 For anyone who spent a decent chunk of your childhood dressing up and acting like your favorite Spice Girl, today's your lucky day, because thanks to this Airbnb listing, you'll get a chance to live like one, too. A host on Airbnb is giving Spice Girls fans a chance to zig-a-gig-ah and spend one night in the exact tour bus - aka the Spice Bus - that was featured in Spice World in 1997. The iconic bus, located in London's Wembley Park neighborhood, has the United Kingdom's Union Jack flag painted on its exterior, but it's even more chic when you take a look inside.
Inside the Spice Bus is a living area decked out with '90s-inspired decor, a mounted television, a "Girl Power" neon light hanging on the wall, and a small dining booth situated in the back. The adjoining bedroom features what appears to be a queen-size bed, a zebra-printed carpet, an extra bed, and two random disco balls, if you're really in the mood to party like it's 1999.
The Spice Bus is available to book for just £99 a night (roughly $129), but the catch is, it's only available to book on June 14 and 15. And, as you could probably imagine, there's a limited amount of space, as the bus only sleeps three guests...