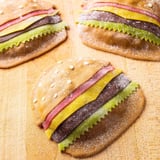 Pasta art is a thing, people, and we are here for it. Whether you are new to the trend or have been on top of it since day one, we have news of a mind-blowing new dish that's so cute, you'll send it to all of your friends on the 'gram within 10 seconds of discovering it. Enter: cheeseburger ravioli, created by pasta artist Linda Miller Nicholson. She's known as Salty Seattle on Instagram and has a casual 265,000 carb-loving followers.
The cute lil' cheeseburgers look so much like the real thing, they'll make you do a double take. The six-layer, thick, juicy burger-ravioli is made up of lettuce, meat, cheese, and tomato - which are actually just pieces of pasta colored with natural food dye. According to Nicholson, the raviolis are filled with Velveeta and ground beef and sauced with Shake Shack's secret slurry. Is your mouth watering yet? The little sesame seed touches on the top bun of the ravioli are made with pasta too, proving that little details go such a long way.
So if you're wondering how to create these cheeseburger raviolis at home, start by finding a little extra time in your schedule to create natural food coloring for your pasta and to craft each layer. Find a...