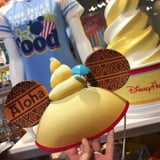 Disney just introduced a new pair of mouse ears, and they're our favorite kind: inspired by food! Several parks have started selling the new Citrus Swirl Mickey Ears Hat, which features patterned ears, a teeny tropical drink umbrella, and a swirl of Disney's classic orange ice cream treat in the center. It's adorable, clearly.
The summery accessory has already been spotted at Animal Kingdom, Hollywood Studios, Disney Springs, the Polynesian Village Resort, and more. It's also expected to make its way to Disneyland soon, according to WDW News Today. Check out more cute photos of the ears ahead, and get ready to feel all the tropical vibes.
Related:
Ahhhh, Disney's New Rapunzel Eclair Comes With a Tiny Chocolate Frying Pan!