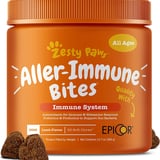 Something all allergy sufferers can probably agree on: allergy season is not. fun. Sure, warm weather and sunny skies are nice, but the sniffles and itchy eyes that come with them are a serious pain. And if you've got a dog with seasonal allergies, well, that's almost worse. Since they're unable to tell us their symptoms, it's easy to feel helpless at their constant scratching. Instead, try to head off their discomfort with Zesty Paws Aller-Immune Bites ($26). These supplements are soft, grain-free treats, packed with immune-boosting ingredients that encourage a healthy response to skin, food, and environmental allergens.
Related:
The 1 Product You Didn't Know Your Pup Needed to Stay Cool This Summer
The chews include wild Alaskan salmon oil (full of nourishing omega-3 fatty acids, which might soothe itching) and colostrum (which may support immune function), along with apple cider vinegar and organic licorice extract (both may support digestion). Each chew also contains 80 mg of EpiCor, a fermented supplement that's been proven to support immune...