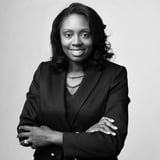 You probably know Aflac from its commercials - you know, the ones featuring a duck that says "Aflac" instead of quacking? Yes, that one! But do you actually know how Aflac works? No? Well, meet Shannon Watkins. She's the vice president of brand and creative services, and she's spearheading the new "Aflac Isn't" campaign to educate and connect with consumers on what the supplemental insurance company, well, isn't. In short, Aflac "gives you cash to help with expenses that health insurance doesn't cover like deductibles and copayments," but a lot of people might not know that.
As a female business leader with nearly 20 years of experience, Shannon has developed marketing initiatives for major corporations like Coco-Cola, Pepsi, Kraft, and Procter & Gamble. Through Aflac's new partnership with music festivals, POPSUGAR recently got the chance to chat with Shannon at Napa Valley's BottleRock music festival about her impressive career journey and how she powers her happy. Honestly, we could all learn a thing or two from her.
POPSUGAR: Given your almost 20 years in marketing and experience working for huge companies, your role as Aflac's vice president of brand and creative...