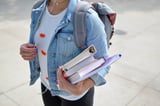 Looking back on my college experience, I learned a lot throughout the course of those four years. Yes, I left well-versed in Photoshop and thesis writing, but my education went so much deeper than the classroom. In fact, the most influential lessons I took with me had nothing to do with textbooks; they involved figuring out (sometimes the hard way!) how to become a responsible, balanced adult, and ultimately getting to know myself and what I wanted from life better.
For many of us, college can be a game of trial and error, and the person we are on the first day of freshman orientation can feel lightyears away from the one who walks across the graduation stage. For me, the time I spent in college was invaluable, not just for the degree itself, but because it's where I finally grew up. Here are biggest lessons I learned outside of the classroom walls that I'll carry with me forever.
Related:
I Went to My "Dream School" Even Though It Was Pricey - Should You Do the Same?