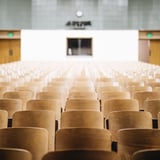 I was halfway through my second semester of sophomore year when my college sent an email telling students to pack up and go home because of COVID-19. Those 72 hours were spent crying, packing, drinking, saying goodbye, and resenting the airline for forcing me to spend $600 on a last-minute flight home. In three days, my world - and the world of college students across the country - changed forever. I left California, moved back in with my parents, and fell into a slight state of depression. I was missing out on what should have been some of the best moments of my life. Everyone told me when I left for college that it would never get better than this, but now, some of those precious months of glorious youth were taken from me, traded in for online classes and banana bread.
Can I afford to get sick this fall, miss classes, and put my family at risk? I don't think I can, and I sincerely doubt many college students can.
I'm not going to pretend like I'm the biggest victim of this whole pandemic - that would be ridiculous and cruel and demonstrate a complete lack of reality. There are people dealing with much more than I am, and I know how lucky I am to have my health and my...