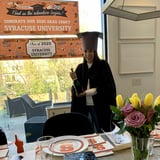 Last Sunday I woke up for my college graduation in my childhood bedroom. Surrounded by a collection of stuffed animals and Bat Mitzvah memorabilia, my eyes could only fixate on the white ceiling overhead. Four years earning a degree in another country, and here I am, back in Canada, in a room where I have been cohabiting with my overweight dog. My family was determined to spring me out of my post-college misery and commemorate the occasion with something other than the usual social-distancing routine of scrolling through TikTok in our pajamas.
I pulled on jeans, swiped on a coat of mascara, and threw on a Syracuse University sweatshirt my mom had hung on my door. Coming down the stairs, my sisters wrapped me in a chaplain's robe I had stolen from our high school reverend and crowned me with a construction-paper cap. I walked into a dining room of SU paraphernalia, my grandparents on Zoom (a true miracle), and my boyfriend on as well, a country away from me finishing his final exams during his first year as a physician's assistant student, now also helping on the front lines.
It's difficult to take in the magnitude of our accomplishments. We're mourning the loss of what we...