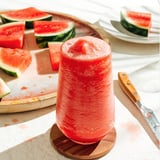 View this post on Instagram

A post shared by Cravings (@cravingsbychrissyteigen) on
There's no denying that Chrissy Teigen is a hilarious gem of a human. While we'd love to share a few laughs with her over drinks on the beach, that most likely will never happen - so what's the next best thing? Make one of her favorite drinks and sip on it while scrolling through her best tweets! The Cravings cookbook author recently shared her go-to summer drink - a vodka watermelon slushie - and just looking at it makes us feel like we're in paradise. While the slushies do take a few hours to freeze (you want the lime juice and sugar to soak into the watermelon as much as possible), they only require four ingredients - lime juice, sugar, vodka, and watermelon.
Personally, I think the best part of Chrissy's vodka watermelon slushie recipe is that the vodka isn't mandatory. The cookbook author explains on her Cravings website that vodka can easily be substituted for your choice of liquor, such as tequila or white wine.
Shortly after Chrissy shared the recipe, people immediately started posting their recreations of it on Instagram, and they look so...