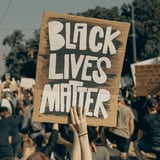 Image Source: Unsplash / Clay Banks
Through impactful protests for the Black Lives Matter movement, the past few weeks have been a serious wake-up call for America to demand change when it comes to systemic racism and police brutality. Social media and Instagram specifically have been flooded with hashtags, artwork, photography, and countless resources to help people educate themselves and take action against racial injustice. And one of the biggest things people should continue to do - in addition to shopping Black-owned brands and businesses - is making sure all the brands they do shop actively support the Black community.
Brands have an opportunity to make an impact through their products, brand presence, and charitable work. Because there are so many brands out there, it takes work to actually find out what they're all about, but not doing that work won't cut it anymore. So, how do you find out more about what a brand stands for before you spend money? Here are some tips on how to find brands that support the Black community beyond a black square on Instagram - and if you should support them.
What Causes Has This Brand Donated to in the Past?
The Black Lives Matter...