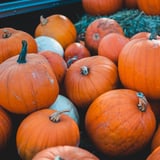 Have you ever wanted to grow your own pumpkin but have stopped yourself short due to a limited availability of outdoor space or simply because the process seemed too difficult? Well, it's not as scary as you might think! As it turns out, having outdoor space is far from mandatory for growing pumpkins, and arguably the hardest part is the duration it takes for the fruit to reach full maturity, which is about 100 frost-free days. However, there are plenty of steps you can take to assure your pumpkin is receiving the best care possible. Here's how to grow your own pumpkin inside your apartment to have one in time for Halloween.
Related:
You Can Order Harry Potter Pumpkin Juice From Universal's Website, So Is It October Yet?
Determine what kind of pumpkin(s) you want to grow. You can pretty much grow any type or size of pumpkin at home, but depending on how much indoor space you have available, you should probably opt for smaller pumpkins like a Jack Be Little or Mini-Jack.
Choose the right pot. The bigger the pumpkin, the bigger the pot. You'll want to...