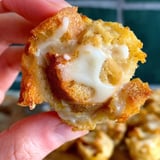 @thefeedfeed

Mimosa Bread Pudding Bites (ft: @justine_snacks) Follow us on Instagram @TheFeedFeed! #feedfeed #howto #recipe #letscook #food #homechef

♬ original sound - thefeedfeed
When it comes to bite-size brunch treats that pair well with a late-morning cocktail, these mimosa bread pudding bites might be the star of the show. In a TikTok video shared by The FeedFeed, home chef Justine E. (@justine_snacks) whipped up a batch of these mini brunch bites with just a few simple ingredients, and that zesty orange-Prosecco glaze has me ready to reach through my screen just to try it.
The recipe calls for two classic mimosa ingredients - Prosecco and orange juice - along with eggs, milk, white bread, and a few spices to add a flavorful kick to the bread pudding. The recipe looks so easy that I might have to schedule a virtual brunch with the gang ASAP just as an excuse to have a full batch all to myself. Read ahead to find out exactly how to make these tasty treats for your next brunch and to see the delicious finished product.
TikTok Mimosa Bread Pudding Bites
TikTok user thefeedfeed
Ingredients
For the Bread Pudding:
1 cup whole milk
2 eggs + 1 egg yolk
1/2 cup orange juice
1/4...