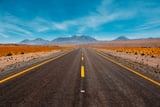 With travel looking a bit different this summer, more and more people are turning to road trips to safely satisfy their wanderlust. In addition to the perk of not having to fly anywhere, road trips allow you to appreciate the journey as well as the destination. They blend the mundane (i.e. getting gas and figuring out directions) with the extraordinary (i.e. seeing breathtaking views and exploring new places). The appeal of a memorable road trip is that you have total control and can take as many detours or make as many stops along the way as you want. (Did we also mention that road-trip snacks are pretty great, too?)
One great way to plan a road trip is to center it on a movie. There are tons of destinations in the US that feature some of your favorite films' locations, like Charleston, SC, from The Notebook or San Francisco from The Wedding Planner. Keep reading for 16 road trips to take based on movies, and as always, make sure you check openings and safety regulations for each destination. We'll see you on the road!
Related:
50 Black Travel Influencers You Should...