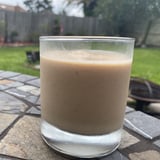 One of our favorite frozen treats to get while walking around Disney's Hollywood Studios is the peanut butter and jelly milkshake. The frozen concoction, which can be found at 50's Prime Time Cafe, tastes like childhood in a cup and is the perfect thing to cool you off on a hot Florida day. But since it'll probably be a while before we're back at Disney, this drink is (thankfully) an easy one to whip up at home. And because we love making just about any frozen drink into a cocktail, we gave this one an adult spin by adding peanut butter whiskey!
Just like the official recipe from Disney, our copycat version of the peanut butter and jelly milkshake has vanilla ice cream, creamy peanut butter, jelly, and milk. But the addition of Skrewball Peanut Butter Whiskey just takes it to a whole new level of delicious. The drink takes just a few minutes to prep and make, and even though it's boozy, the delicious taste of peanut butter and jelly will make you feel like a kid again.
Related:
Forget the Grey Stuff, You Need to Whip Up This Copycat Recipe For Boozy LeFou's Brew ...